I realise you may be expecting me to give you my one top pick here – although that is, quite simply, impossible.
You see, I have many!
So here are my 3 top favourites, and why –
1. Exercycle – lives in the spare room or garage. The garage is especially handy if you're exercising when everyone else is sleeping in. Also handy if your garage is cooler and there's a hot summer happening out there. This works well for many of my clients who need to get their cardio work out done, or are in training for an event and the hours they have available to train don't always fit with the safety of daylight hours, for example when dealing with the constraints of traffic in a big city.
It's also brilliant when it's raining and we may not feel like braving those rain drops.
I recommend a minimum bike session of 20mins.
2. Yoga – ideal if you have your own routine, or if you need inspiration there are many free apps you can download, and utube videos you can use (handy to select to make available offline so you're always prepared; wifi or not.)
I love the versatility of this option, as we can adapt it for cardio (more YANG focus) or for deep tissue stretching (more YIN focus).
20-30mins minimum is ideal.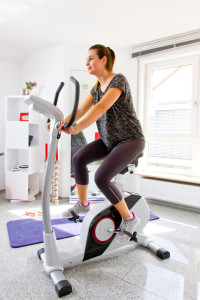 3. Lunges – when we need to cut to the chase and we only have a matter of minutes to make the most of. With or without weights, our form here makes all the difference. Making sure our backward knee goes down to the ground, keeping our front knee directly over our ankle, and repeating both sides x10 slowly works well.
As with any type of exercise – if anything hurts and you're not sure; make sure you check with your coach or primary healthcare practitioner.
Take away – we don't have to get to the gym to be able to exercise; especially when there are membership fees or time challenges.
And if you'd like top tips on similar health-related topics – for both you and your family – then click on this link and pop in your email address.
Fi Jamieson-Folland D.O., I.N.H.C., is The LifeStyle Aligner. She's an experienced practitioner since 1992 in Europe, Asia and New Zealand as a qualified Osteopath, Integrative Nutrition Health Coach, speaker, educator, writer, certified raw vegan gluten-free chef, and Health Brand Ambassador.