Is there such a thing as eco-friendly banking?
Whilst I'd like to think there is, I was absolutely delighted when I came across another of the How To Save The World podcasts that covers this topic for banks here in New Zealand.
It's definitely worth checking it out 1.
Let's start with what eco-friendly is exactly. In this 'How to Save the World' podcast, the perspective that they're taking is from the impact of the way the bank is run and also what their investments are.
Plus – is the bank taking into account the direct impact on the biodiversity of our planet's flora and fauna, for example if the bank is investing in petrochemicals?
Personally I'd rather not invest in companies that produce questionable items, for example sugar-laden fizzy drinks and fast food.
You might also find it valuable to listen to their criteria for measuring eligibility, and the unofficial awards that they're giving out to those banks that tick the relevant boxes.
They take into account so many areas, from having a fleet of electric cars, if employees work from home, to how motivated the bank is to be proactive in the community. It really makes so much sense!
Interestingly, as a result of listening to this podcast, Chris and I are in the process (as I write) of adjusting our investment portfolio, so that our choices are more inline with our conscience.
In other words living our values out loud.
How about you? I may have certain ideas, although I'm curious to learn yours.
In the meantime, I'm looking forward to connecting with you on this week's #AlivewithFi when we explore this topic further:-)
Fi Jamieson-Folland D.O., I.N.H.C., is The LifeStyle Aligner. She's an experienced practitioner since 1992 in Europe, Asia and New Zealand as a qualified Osteopath, Integrative Nutrition Health Coach, speaker, educator, writer, certified raw vegan gluten-free chef, and Health Brand Ambassador.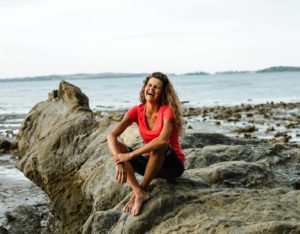 Facebook Instagram LinkedIn Pinterest YouTube
1 Banks are one of the most powerful 'future creators' in modern society. More or less they get to choose who they invest their millions (and billions) in, empowering some and squeezing others. They can also affect climate through their operational footprints and have significant opportunity to give back to communities through grants and other charitable activities.Check out the detail in this podcast –
hhttps://podcasts.apple.com/nz/podcast/finding-new-zealands-most-eco-friendly-bank/id1467713057?i=1000491905500