Greetings from the Bahamas, where it's turning into another stunner.
We've had some interestingly blustery weather from a recent storm, and now I'm enjoying the end of a wee walk along the esplanade.
So what's this about having a rhythm? For each of us, when it comes to any area of our lives ―health, relationships, spirituality, sleep cycle, diet and even hydration etc―we have a rhythm.
It can be tricky to spot, although I truly believe it's worth investing the time and space to figure out our rhythm; what it is and what it looks for us individually.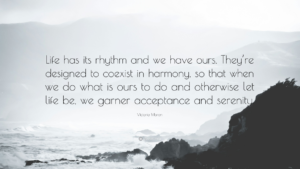 It can make a significant difference when we have a handle on what makes us tick – especially when it comes to creating results in our lives
I was chatting with my sister about the concept of allowing ourselves to figure out our own rhythm, to focus on it and let our awareness unfold.
Our conversation reminded me of a time when I was considering starting a new business (at the time I was running the various traditional businesses I had successfully started, and was considering selling the fourth to start the fifth).
I knew I wanted to build a business that generated residual income, although I had so many questions….
Was it best to sell my current business after all?…
Could I start out on a brand new venture in an 'unknown' for me and actually be successful?…
…Oh blimey – what to do?
These were scary questions for me!  And so, I sat with it.
I sat practicing listening to my intuition.
I sought the advice of people and mentors whom I trust.
On reflection, I can see I was feeling into 'is this my right-rhythm currently?' Is it wise timing to pursue this now? How does it sit with me? Am I ready to take these next steps to grow, to expand myself, to take on something new?
And I got my answer.
So, when might we stop and truly listen to ourselves and to our intuition?
Message me – I'd be moved to hear how you've heard yours.
Fi Jamieson-Folland D.O, is a Lifestyle Consultant, with over 26 years experience in Europe, Asia and New Zealand as a qualified osteopath, educator, writer, certified raw vegan gluten-free chef, speaker, health mentor and Health Brand Ambassador. She loves to globe-trot with her husband Chris (NZ, Australia, USA, UK + Europe and Indonesia are current favourites) relishing an outdoor lifestyle and time with family and friends.