It's time for us to hear from Financial Health Coach – Chris Folland, with an interesting concept.
What if there is a way to get everything you want?
To actually live the life you really want?…
…to get out of the rut of mundane life – and instead spend valuable time with your friends, family, and experiencing what lights you up. Maybe even traveling and seeing different cultures, or contributing in the areas that you're most passionate about?
Well, there IS a way.
And that's what my wife and I have created for our lives; finding a new way that's been way more fulfilling in multiple ways.
I studied law and worked in a law firm in Auckland for a number of years before I decided to change my life.
I went to Canada and skied for a season, which didn't bring in the kind of salary I'd been used to although it was a huge amount of fun. For the next 7 years, I was working hard and getting results – however was no way near financial freedom.
What I needed to do was learn a way a work differently and that's when we followed the pathway to the 24/7 club of residual income.  Having money flowing in whether or not you're working gives you options.
So, what if there was a way for you to design your life based on what you wanted to do – rather than what you needed to do for money today?
There certainly IS. 1
There absolutely is a way, instead of being head down in survival mode.
When you breathe and relax and open your eyes, look at the horizon: there are people out there living the life you want, and the thing is that they're willing and capable to teach you how to do it, too.
Consider this: if you wanted to fly, you'd go and find a pilot who was also trained as an instructor. In this instance, it's finding the right 'instructor' in the financial area.
It doesn't have to be Fi and I. There are plenty of people who've created financial independence. Find that person who's broken free to whom you can both relate and can walk with, to learn what they did.
We never reach the top of the mountain, although there's always a greater level of what we can achieve. 
The way to experience more is to keep opening our hearts. Do more, give more, live more. 
Just keep on your path. You don't have to see the whole staircase; just shine your light on the next step, which may well be to find a mentor who has what you want and can show you how to get there, too. Any questions you have on any part of what we've covered here – you're welcome to message me.
In the meantime – see you on this week's #AlivewithFi
1It may seem daunting, although there is a way. Remember that "any life change requires one simple action: you to decide."
"The First Thing You Need to Do to Change Your Life"
Sherman (n.d.)
Fi Jamieson-Folland D.O., I.N.H.C., is The LifeStyle Aligner. She's an experienced practitioner since 1992 in Europe, Asia and New Zealand as a qualified Osteopath, Integrative Nutrition Health Coach, speaker, educator, writer, certified raw vegan gluten-free chef, and Health Brand Ambassador.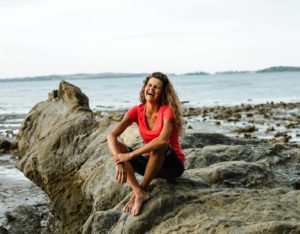 Facebook  Instagram LinkedIn Pinterest YouTube