Post-yoga Protein treat!
Feeling inspired after swimming and a yoga class this morning, it's time for breakfast! My body needs protein, minerals and the right fats – and it needs to be FAST, tempting and tasty!
So – checkout my textured-variation to the Creme Dream link below…simply add in 2 tbsp raw cacao nibs (you may prefer the honey-sweetened ones). And I used 3 pre-soaked dates instead of the coconut treacle, plus replaced the filtered water with fresh coconut water.
If you're wondering where you can find fresh coconuts in what may be your winter-season (!) go no further than your local supermarket in the fresh veggies section. You may well be amazed at what's available!
http://www.fijamiesonfolland.com/creme-dream-natural/
Check out how this morning's breakfast spread turned out!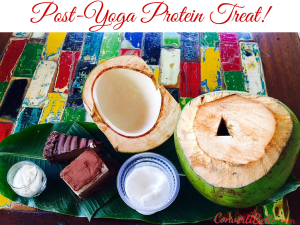 …with Creme dream (before I added the cacao nibs!), coconut yoghurt and flesh, plus raw, vegan, gluten-free tiramisu and caramel tart. Mouth-watering!
If you would like to receive more FREE recipes like this one straight to your inbox the join our newsletter here
Fi Jamieson-Folland D.O, is The LifeStyle Aligner, with over 27 years experience in Europe, Asia and New Zealand as a qualified osteopath, educator, writer, certified raw vegan gluten-free chef, speaker, health mentor and Health Brand Ambassador. She loves to globe-trot with her husband Chris (NZ, Australia, USA, UK + Europe and Indonesia are current favourites) relishing an outdoor lifestyle and time with family and friends.