It's a beautiful morning…
Five thirty
and the chooks are waking up, the cicadas are still going strong (they tend to pull all-nighters here!) and the first hints of pink-light are creeping up the skyline.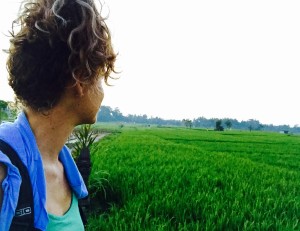 Life is good!
After a week in Queenstown before leaving for Bali, I feel like I'm just about thawed-out! The minus 2 degrees temps were definitely refreshing, although not my favourite.
And talk about contrast!
This morning's 25 degrees with a slight breeze feels just right. It's still feeling strange to be wearing thin shorts + a t-shirt out on my morning walk, rather than the 5 layers (top + bottom) of icebreakers. You can probably tell which option I prefer!
The morning chanting in the nearby village on my right is mesmerising, especially when I glance at the sacred mountains – Agung + Batur, that seem close enough to reach out and touch.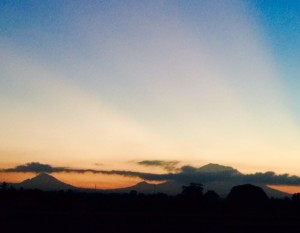 As the snippets of sound drift over my way, I imagine the ornate blessings being placed for the gods.
At first, I was really surprised at how exquisite the small weavings + arrangements are, and how they're placed just about everywhere you can imagine. From doorways, by rice paddies, on foreheads, by statues + waterways – to poolsides and even next to sleeping animals.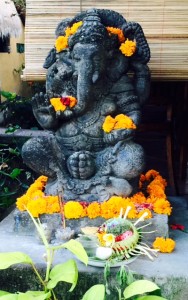 One of the things I love the most about my early morning walks is seeing the beaming faces. Whilst many houses I see out here in the fields are humble, the clothes worn by the local people are often bright + bold, just like their explosive laughter.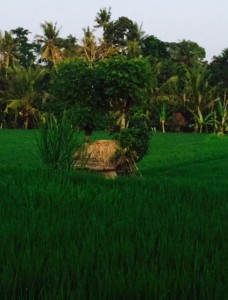 Another day unfolds in paradise.
It you would like to hear more about what I get up to, how I can help you and  get some awesome healthy recipes I have then
click here
 and join our news letter.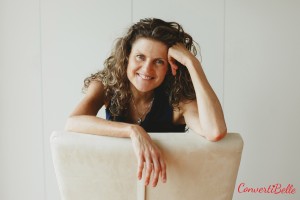 Fi Jamieson-Folland D.O, is an Executive Lifestyle Consultant, with over 20 years experience in Europe, Asia and New Zealand as a qualified osteopath, certified raw, vegan, gluten-free chef, educator, writer and health mentor. She lives in Auckland with her husband Chris, relishing an outdoor lifestyle and time with family and friends.