We're often encouraged to listen to our gut; basically to go with our intuition.
On that note, I want to explore how going with our gut, namely choosing gut health to create body wellness, starts with using intuition in the way we feed ourselves¹.  I like to call it intuitive eating.  I've found it instinctively feels better and makes eating more pleasurable.
So, here are my 3 steps for intuitive eating.  To start, you might pick and practice one that stands out for you –
Intuitive eating begins with setting aside time for eating – just for eating. This means we turn our devices off and place them somewhere else.  We sit together, without television or internet video.  It's become common to have meals with entertainment, although releasing these distractions helps us be present.
I know when I was growing up, meal times were moments of special, irreplaceable connection with my family. It's still true today.
When we savor our food, chewing slowly and carefully, we relish the sensation. Rather than rushing or being on autopilot moving from A to B, being deliberate about meal times lets us remember the journey.
Eating this way also helps us to remember to do things that help digestion, like avoiding drinking volumes of water during our meal. Plus, it reveals which foods work for us and which create discomfort or digestive challenges. Rotating what we eat with a variety of foods is another way to figure out how different ones affect us.
Now – simply pick the step that stands out for you the most, and go for it.  Please, let me know what you discover! As always, I love hearing from you – to get in touch, just click here.
¹Rosen, Emily. "The Science and Psychology of Intuitive Eating." Institute for the Psychology of Eating, 2014. Http://psychologyofeating.com/the-science-and-psychology-of-intuitive-eating/ Rosen emphasizes that "it's so important to slow down and observe so you can hear what your body is saying. Oftentimes, we're moving so quickly through the world that we spend our time disconnected from our body. We run from one meeting to the next, skip meals when we don't have time, or overeat at the end of a day. All of this disconnection wreaks havoc on our metabolism and on our happiness." In this way, "eating intuitively requires honoring the messages from your own inner source of knowing to guide you."
Fi Jamieson-Folland D.O., I.N.H.C., is The LifeStyle Aligner. She's an experienced practitioner since 1992 in Europe, Asia and New Zealand as a qualified Osteopath, Integrative Nutrition Health Coach, speaker, educator, writer, certified raw vegan gluten-free chef, and Health Brand Ambassador.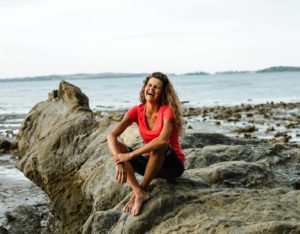 Facebook Instagram LinkedIn Pinterest YouTube