Without the shadow of a doubt, this is it.
I know beyond all question that this is the main factor in our consistent success with reaching our goals.
Yes – these are big, bold claims. And for good reason.
Using this key step has worked for me with overcoming a 3-years-to-live prognosis;
With learning to walk again after being knocked over on a pedestrian crossing and reconstructive surgery;
With creating multiple flourishing businesses from scratch;
In fact, with each and every challenge I've managed to get a handle on, and each goal I've reached during the last almost five decades.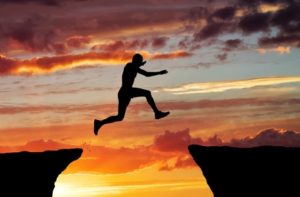 So what is this magic step?
Positive habits.
Everyday.
Regardless of whether I feel like it (let's face it, if I waited to feel good about doing some of the things I know I need to do – then I'd be waiting a loooooong time).
Those routines that take me closer to what I do want in my life.
So if my goal is to reach a particular core fitness level, then I move my body regularly in a way to help me get that.
Even when I don't feel like it.
The fascinating part is right here. Once the habit is in place, then we don't need to think about it – our mind and body are ready to go. How many times do we need to repeat the action? Most recent research says the pattern's in our nervous system after 66 times.
And then we tap into the power of compounding – where the results become self-perpetuating and build on themselves.
The really sparkly part is that we're no longer relying on grunt and willpower at that point. We've reached the zone, where we're on automatic.
I can tell, this isn't news to you.
I believe there is no new information.
The kicker is whether we action what we know – or watch someone else doing it and reaping the benefits.
Take away – Don't take my word for it  🙂
Fi Jamieson-Folland D.O, is a Lifestyle Consultant, with over 26 years experience in Europe, Asia and New Zealand as a qualified osteopath, educator, writer, certified raw vegan gluten-free chef, speaker, health mentor and Health Brand Ambassador. She loves to globe-trot with her husband Chris (NZ, Australia, USA, UK + Europe and Indonesia are current favourites) relishing an outdoor lifestyle and time with family and friends.