Sure, we all want to be more focused and productive.
The question is however, how do we ensure we do this when it's not easy?
Two strategies I picked up from an extraordinary woman, Mel Robbins, at a recent conference in Utah, are the '5-second rule' and '30 before 7:30 rule'. 1
Essentially, 30 before 7:30 is investing 30 mins to plan how we'll run the day instead of ending up with the day running us.
And sometimes we need what's become my secret weapon to get us there. We can know we need to do something although we still procrastinate. This is where it's time to bite the bullet and just count down as though you're going to launch a rocket:
5…..4…..3…..2…..1 – now, go do it! Just do it.
Even if it's a below-par version of planning the day, just take that 30 minutes and make the plan. Getting that first step sorted starts to build this muscle of stepping into productivity.
And if you're curious about finding a way of not only getting these 30 minutes sorted; also of being able to create results for yourself, then stay tuned.
Because the result you're seeking – whether it's reaching your ideal shape, boosting your immune system, experiencing quality sleep, selecting healthier foods, or having more energy ―it's doable.
If you're ready to get real, long-term results, then keep your eyes peeled or message me, because we have an upcoming program that could have your name on it. More soon on how you can apply.
Ciao for now ? and see you on #AliveWithFi
1 Mel Robbins says, "I give myself what I call 30 before 7:30, which is 30 minutes to plan my day and set goals for myself before I even think about checking emails. It's been a lifesaver" and adds that "we are most productive in the morning. Studies have found that we have more self-control in the morning. You might think of self-control as a muscle; the more you use the muscle, the more it gets fatigued. We are so distracted during the day by news, social media, family, etc. that our self-control muscle gets worn down as the day goes on.  If you have goals that you want to accomplish that require confidence and effort, working on them first thing in the morning is ideal." – Why keeping a journal is a key to a successful career' – Mel Robbins.  D. Schawbel (2017)
Fi Jamieson-Folland D.O., I.N.H.C., is The LifeStyle Aligner. She's an experienced practitioner since 1992 in Europe, Asia and New Zealand as a qualified Osteopath, Integrative Nutrition Health Coach, speaker, educator, writer, certified raw vegan gluten-free chef, and Health Brand Ambassador.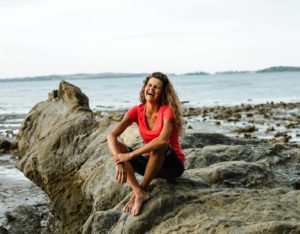 Facebook  Instagram LinkedIn Pinterest YouTube