The Power Boost Green Smoothie

 The Power Boost Green Smoothie
Why? For after a workout, and those busy days when you need to keep going
When? The Power Boost Green Smoothie is perfect for breakfast, lunch or post-exercise
Ingredients
300ml nut milk eg almond, hazelnut (check out the super-quick ConvertiBelle Nutmilk recipe!)
1 frozen banana (or half if you prefer) peeled and broken into pieces before freezing
½ cup frozen berries
1 cup brazil nuts, pre-soaked in filtered water overnight, drained just before use
6 x medium sized spinach leaves, washed
½ – 1 tablespoon tahini, unhulled (ideally raw)
100-200ml filtered water
½ – 1 teaspoon raw cacao nibs

What to do
Place your nut milk into the blender with the frozen berries and banana. Blend until smooth, then gradually add (ideally with your blender still running if this is an option for your blender) the brazil nuts, spinach and tahini. Add the water slowly to create a thicker or thinner smoothee according to taste.
Sprinkle your creation with cacao nibs once poured. An optional extra is a sprig of fresh parsley to top it off!
Top tips for creating your perfect the raw smoothie
Optional extra for a super-energy boost: add a tablespoon of raw avocado while adding your spinach, and/or 1 cup of pre-soaked & drained pumpkin seeds
Include organic where possible. If that's not possible, always peel the skins of your fruit and veggies
When blending solids and more dense ingredients, blend on 'high speed' for longer than you think is necessary to ensure creamy results. It makes a really big difference if you have a good blender!
Pop any leftovers in a sealed non-toxic container in the fridge and for best nutritional value, finish the same day
If you would like to receive regular recipes and health tips sign up to our newsletter here and join the Convertibelle community.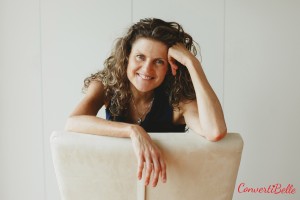 Fi Jamieson-Folland D.O, is an Executive Lifestyle Consultant, with over 20 years experience in Europe, Asia and New Zealand as a qualified osteopath, certified raw, vegan, gluten-free chef, educator, writer and health mentor. She lives in Auckland with her husband Chris, relishing an outdoor lifestyle and time with family and friends.