Yummy Energy Boosters
Why? I find these perfect as a delicious, slow-release, energy snack option. They're ideal for those times you need something healthy, easy and fast! It's also a great way to add in some alkalizing green goodies, without overpowering the taste.
When? Ideal for mid-morning or afternoon, and for lunch boxes ~ kids love them!
Ingredients    
Note ** these ingredients help to lower the GI (which means a healthier, slower energy release for your body)
2 cups almonds, pumpkin seeds and hazelnuts, pre-soaked in filtered water overnight, drained just before use **

1 cup dates, pre-soaked overnight, in just enough filtered water to cover them, drained just before use, and keep this water separately

1-2 tbsp unsweetened cacao powder

1 tsp spirulina powder

½ tsp cinnamon **

A couple of drops of natural vanilla or almond essence

50 ml filtered water as needed
What to do
Place the seeds and nuts into the food processor and blend well with the S-blade. I like a little more texture in my food, so my bending time maybe less than yours, if you prefer your food texture smoother. Gradually add in the dates, cacao powder and spirulina. Lastly – add in the vanilla and cinnamon.
Finally, you can add the dates-water according to the texture you prefer – plus more of the filtered water if your mixture is clumping together too much to grind/mix up properly.
Pop the mixture into a bowl, pinch off pieces of the mixture and roll in your palms into golf-balls. If you make them a little bigger – they can be handy after a good work out or a long walk!
Makes enough for 10-12 balls, depending on the size you make.  
Your Yummy Energy Boosters will keep for a couple of weeks in a sealed BPA-free container in the fridge. They're also really gorgeous frozen and will keep for several months…fab with raw, vegan, gluten-free ice cream !
Key Take aways
I use 3 cups of nuts/seeds if I'm wanting to 'up' my

protein and iron

. Mix up the seeds and nuts for variety – great options include brazils / macademias / walnuts, and sunflower seeds.

Opt for

organic

ingredients wherever you can – it's great because many supermarkets now stock organic options for most of the ingredients in this recipe.

Medjool

dates are the best kind to get – they have a smooth and creamy texture. Before you soak them, make sure you remove the stones. Oh, and another tip – once you've removed the stones, pop a handful of your medjool dates into the freezer overnight – and BOOM! Healthy 'toffees!'

Optional extra for a super-energy boost: I add a tablespoon of

unhulled tahini

(available from most good supermarkets and health stores) before I add the cacao powder.  Another goodie is to add in ¼ cup of

fine coconut pieces

.

To add more texture and protein, roll your Yummy Energy Boosters in some unhulled

sesame seeds

or finely shredded coconut pieces before you store them.
Happy experimenting!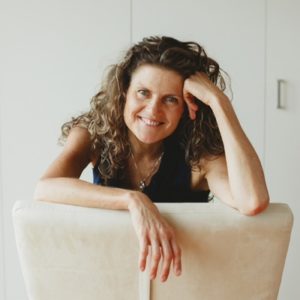 Fi Jamieson-Folland D.O, is a Lifestyle Consultant, with over 26 years experience in Europe, Asia and New Zealand as a qualified osteopath, educator, writer, certified raw vegan gluten-free chef, speaker, health mentor, LifeStyle and Health Ambassador. She lives in NZ and Indonesia with her husband Chris, relishing an outdoor lifestyle and time with family and friends.